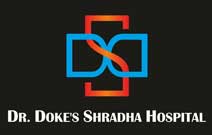 Dr. Doke's Shraddha Hospital is centrally located in sector 5, Airoli, Navi Mumbai. It has more than 24 years of vast experience in Hospital industry. Dr. Doke's Shraddha Hospital is managed by Dr. Sanjay N. Doke, M.S.(Surgeon) from 1998 till date and has an experience of 19 years in surgery. Dr. Doke's Shraddha Hospital is a maternity, General and Surgical Hospital.
AWARDS & ACHIEVEMENTS
President of Airoli Sports Association since its inception from April 18th 2000 till date building a huge 40,000 sq feet sports complex in Airoli.
On Advisory panel of General Practioners Association of Airoli
Concept of 'DILSE' a social event to help people & support them for deaddiction for Gutka, tobacco, smoking & alcohol. On goingly with help of Dr. Shubhangi Dere Psychiatrist.
Blood donation camp on 3rd July 2011 on Doctor's Day.
Free Piles Consultation Camp conducted at Dr. Doke's Shraddha Hospital from 1st July to 15th July where more than 100 patients were given free consultation
2nd consecutive year Free Piles Consultation Camp from 16th August to 15th September 2011
Free medical health check up with Airoli Sports Association(ASA) on 28th March 2011